As many working adults may be prone to falling into a monotonous routine in their day-to-day, many may struggle with lack of variety in their daily lives and thus become bored, uninspired, or even develop a sense of fulfillment.
This project addresses this problem by encouraging users to re-discover their child-like, inquisitive mindset. Learning and curious observation are incorporated into their everyday lives through the app and user journey.

Tools: Figma, InDesign, Photoshop, Fusion360
The main character of this project is Gizmo the "curious cat," who embodies the curious spirit that I'm aiming to instill in users. The goal is to encourage users to take notice of their surroundings and adopt observant curiosity while still being able to go about their everyday work lives.


Empathy mapping was used to help further understand our user needs and their internal states. This helps to identify pain points and define user goals.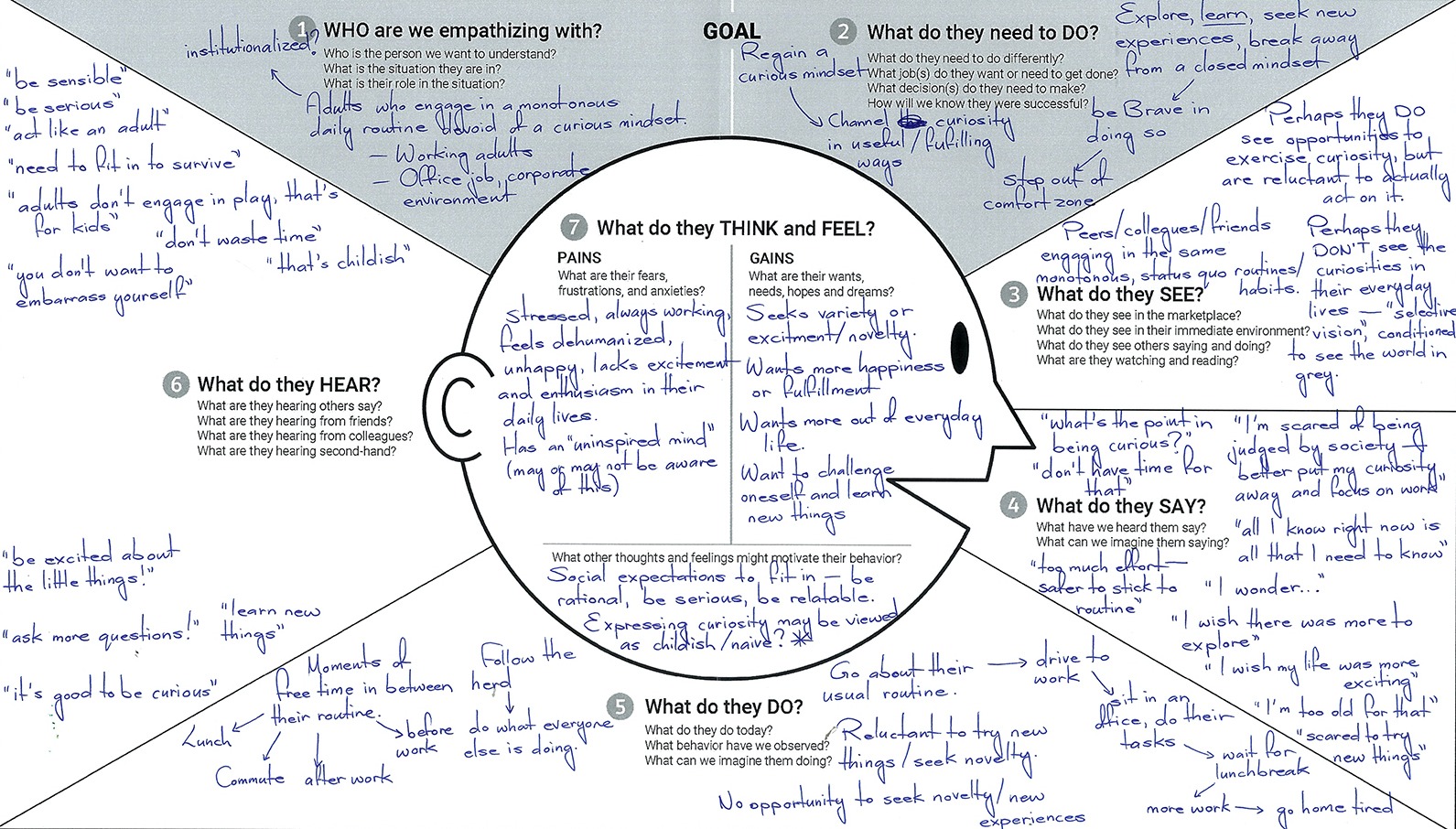 The user journey begins in the physical world before it enters the digital world via the app. Users will find coin-sized "Gizmo tokens" throughout their city — this interaction is inspired by the familiar experience of spontaneously discovering a coin on the pavement — I'm sure this is something we've all experienced (as both children and adults), and it's something which sparks a momentary excitement or surprise in us.

On examination of the token, the user will find a prompt to download the Gizmo app in order to find out more. On the app, the user will be encouraged to look out for Gizmo's QR codes which are located near iconic landmarks throughout the city. Once a QR code is found, the user uses the app to scan it, unlocking a page of information and history about the landmark where the QR code was located.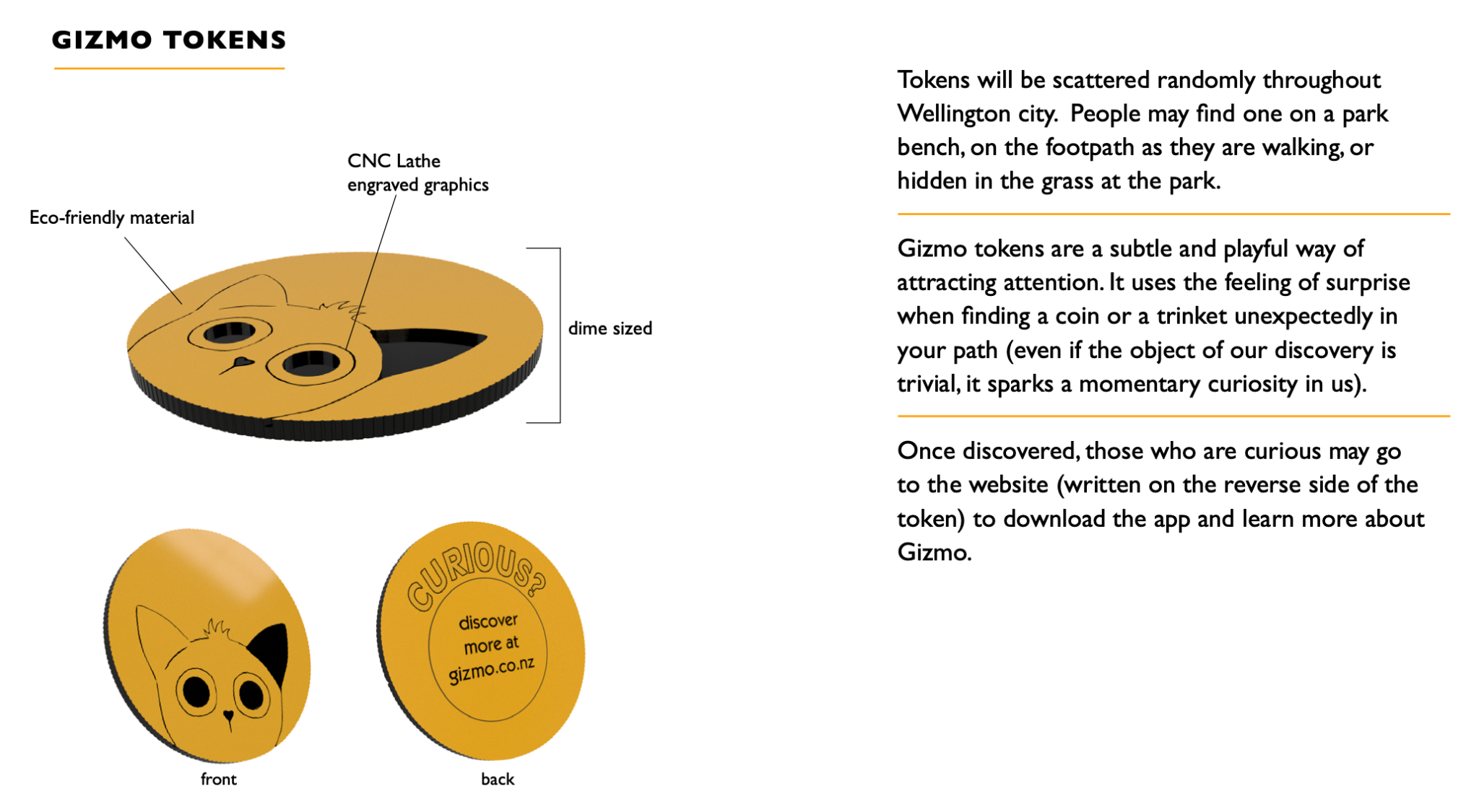 This interaction prompts users to be more observant about their environment while learning more about their city. They should be able to spot Gizmo's codes just as they're going about their lives, e.g. walking to and from work, taking lunch break outside, going for a stroll in the city, etc. The interaction is quick and allows users to accomplish it without taking too much time and effort out of their day; just a bit of curious observation.

GOING DIGITAL + GAMIFICATION
The Gizmo app makes it fun. As soon as the user discovers a QR code, the landmark will be added to their "collection" on the Gizmo app. Over time as the user discovers more, their collection grows. They can go back and read more about the places they've unlocked as the info page will always be there. Gamification makes the interaction playful while motivating users to keep up their curious observations in the real world.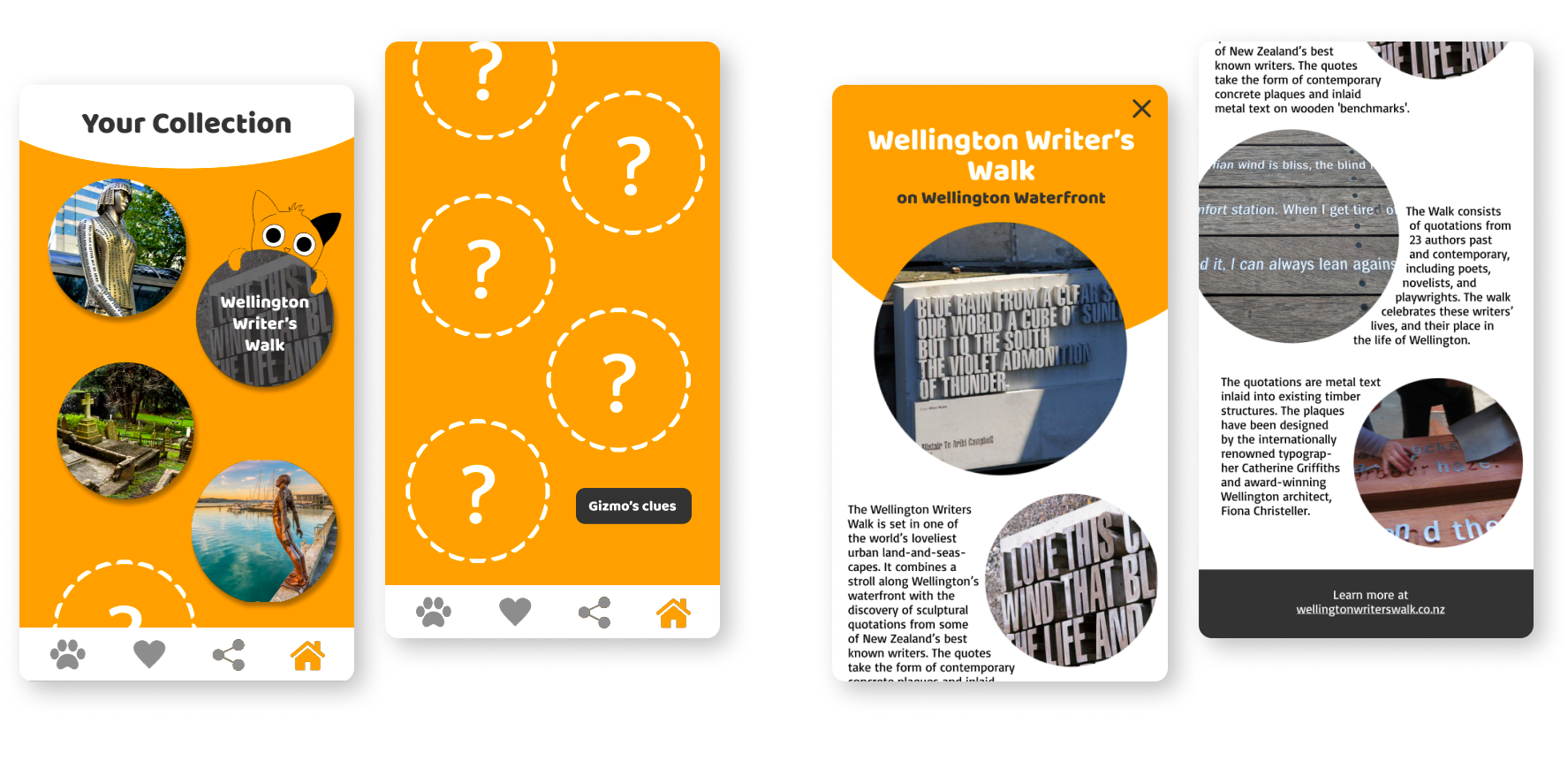 Gizmo also works with local organizations such as entertainment centers, zoos, and sanctuaries to donate to local animal rescue organizations. With the tokens, users can either distribute their token back into the city (for someone else to find), or they can hand it to a participating organization (which are listed in the "Give" tab on the app) to make a donation to the local SPCA/animal rescue shelter.
This charity aspect encourages users to visit fun places which they may have never been before, while also making a donation to a good cause. The initiative also helps participating businesses and wildlife organizations to gain exposure and visitors.