Bite Sized Daily is a news platform that covers the most recent news in short, bite-sized portions, perfect for busy young individuals who may not have time to browse through long news articles every day. Only the most important daily news is included without any irrelevant and superfluous content.
A problem encountered in many New Zealand news websites is the excess of "clickbait" articles and trivial content which is distracting and misleading. Especially for younger readers who may already find "reading the news" to be a daunting or laborious task. Bite Sized Daily delivers the most important news in short and sweet articles, on a user-friendly and stylish interface for fun and easy news reading.

Tools: Figma
Bite Sized Daily provides a news source that ensures every article is topical and informative. Efficiency is an important element in the user journey. All articles are short and concise, covering only the necessary information. This allows busy, on-to-go users to keep informed without having to sift through long articles or crowded news websites.
Only the most recent and relevant news from the past week is shown on the home page. Articles in the app get archived after 7 days and will no longer be shown. This ephemeral quality encourages users to get into the habit of checking the news daily, while ensuring the content is always fresh and up to date.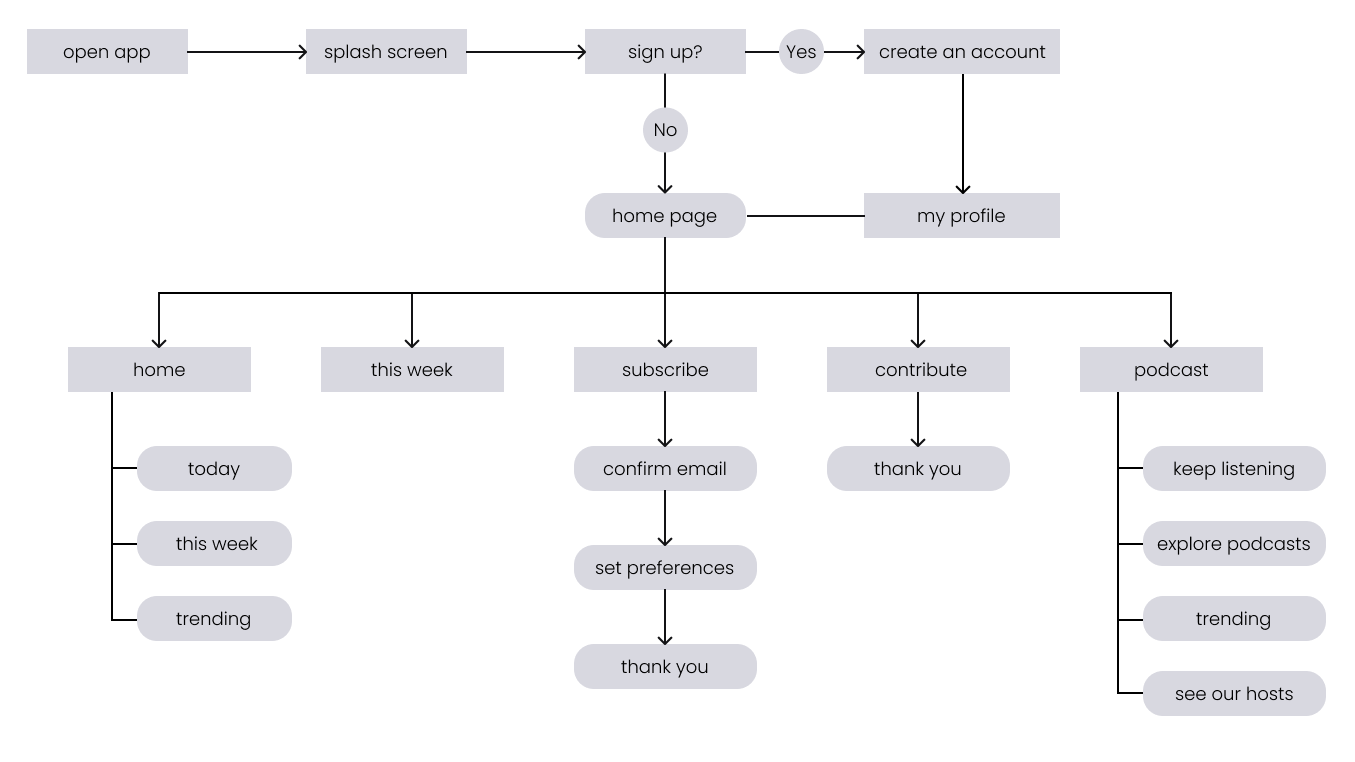 The target audience is young professionals who are short on time but still want to keep up to date with the news. As reading the news has become less popular amongst younger generations (and people are getting news via word-of-mouth or social media), the Bite Sized Daily app encourages young people to keep informed via a credible source and keep in the habit of checking the news.

News articles are categorized by news today, news from the past week, and trending news. All articles are concise and to the point, while also stating the time it takes to read.
The Bite Sized Podcast features entertaining and knowledgeable hosts who deliver news in audio format; great for users who like to multi-task while listening to their news.
The Bite Sized Daily subscription sends a short email every morning into your inbox for even more concise on-the-go news updates. Users can set preferences to what topics they like so they're kept up to date on only what they care about.
Reader contribution allows users to submit their own opinion piece or feedback they have for Bite Sized Daily. The platform is inclusive and open to reader voices, therefore it encourages users to write in and be involved.
VISUAL DESIGN AND STYLING
The stylish dark interface is visually similar to popular entertainment apps such as Spotify or Instagram. This gives it a familiar, friendly, and trendy look and feel. The user-friendly interface combined with straight-forward, easy-to-digest content will hopefully make "reading the news" feel less daunting and more enjoyable.